Welcome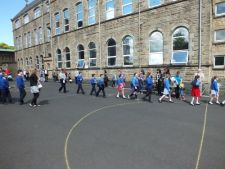 Welcome to Nazareth House Primary and Nursery School website. We hope you find the site easy to use and informative.
Our school is housed in a beautiful old building just off Bishop Street. It is equipped to very high standards and a warm, homely atmosphere pervades the building.
We are very proud of our 260 children ranging from three year olds to eleven year olds.
Our staff of eleven teachers, twelve classroom assistants, five lunch supervisors, four cleaners , caretaker and secretary are committed to making Nazareth House Primary and Nursery School a very welcoming industrious place. But don't take our word for it... call in and see for yourself! You'll be made very welcome!
Primary 2 May Assembly
Sister Clare 'All or Nothing'
We are indebted to the Servant Sisters of the Home of the Mother and the Crockett Family for allowing us the honour of hosting a special screening of the film 'All or Nothing!!' A very powerful and moving tribute to our 'famous' past pupil Sister Clare Crockett. Thank you to all who attended especially Clare's sisters Megan and Shauna, past members of staff and Sisters Bernadine and Muredach who both travelled up from Sligo to be with us on this memorable occasion.
Stars of the week Friday 11th May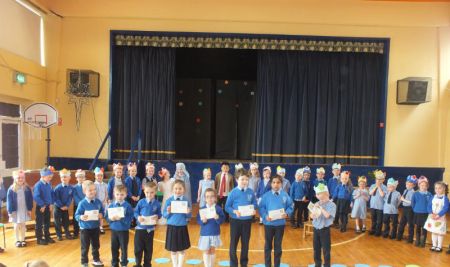 Nazareth House Primary School, Bishop Street, Derry, BT48 6UN | Telephone: 028 71280212

WEBSITE BY: SCHOOLWEBDESIGN.NET | Login