Welcome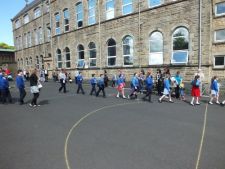 Welcome to Nazareth House Primary and Nursery School website. We hope you find the site easy to use and informative.
Our school is housed in a beautiful old building just off Bishop Street. It is equipped to very high standards and a warm, homely atmosphere pervades the building.
We are very proud of our 260 children ranging from three year olds to eleven year olds.
Our staff of eleven teachers, eight classroom assistants, five lunch supervisors, four cleaners , caretaker and secretary are committed to making Nazareth House Primary and Nursery School a very welcoming industrious place. But don't take our word for it... call in and see for yourself! You'll be made very welcome!
Primary 7 participating in fan the flame & Aras Colmcille on St Columba's day
Final Night...WOW!!!
Syrian Refugee "Green Day"
Mrs McGill organised a "Green Day" in an effort to get resources for the Syrian refugees who will be coming to our city. Anyone wearing green was asked for a donation towards this worthy cause. So far we have raised £910.11 with lots of sports equipment also being donated. Once again the generosity of our school community has been overwhelming especially when you consider our recent Clic Sargent fundraising and our Trócaire appeal. We can surely see the evidence of Caring and Sharing. Thank you!
Catholic Schools Week
Forgiveness activity winners
Forgiveness activity winners
Catholic Schools Week 2016
The theme this year is to "Proclaim God's Mercy".
In Nazareth House Primary School we have created 'doors of mercy' on each floor. Primary 1 to primary 7 children had a focus workshop on forgiveness this past week. They symbolised this activity by decorating little foam shapes, which you will see, dangling from our doors around the school.
Let's try and make this a special "Nazareth Jubilee Year of Mercy!"
Nazareth House Primary School, Bishop Street, Derry, BT48 6UN | Telephone: 028 71280212
WEBSITE BY: SCHOOLWEBDESIGN.NET | Login