Welcome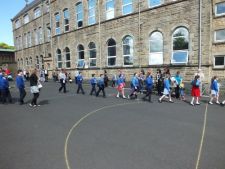 Welcome to Nazareth House Primary and Nursery School website. We hope you find the site easy to use and informative.
Our school is housed in a beautiful old building just off Bishop Street. It is equipped to very high standards and a warm, homely atmosphere pervades the building.
We are very proud of our 260 children ranging from three year olds to eleven year olds.
Our staff of eleven teachers, eight classroom assistants, five lunch supervisors, four cleaners , caretaker and secretary are committed to making Nazareth House Primary and Nursery School a very welcoming industrious place. But don't take our word for it... call in and see for yourself! You'll be made very welcome!
World Book Day
World Book Day Book Cover Competition
World Book Day Competition - Draw your favourite book cover.
Congratulations to the winners of the book cover competition.
Important eSafety Notice for parents/guardians
Important eSafety notice for parents/guardians: Please take time to read this important advice regarding the download and use of the SimSimi app.
Stars of the week
School Notices
Easter Holidays -
School finishes for ALL pupils @ 12.00 noon this Thursday, 13th April and re-opens on Monday, 24th April
Attention Road Users-
Only authorised vehicles are allowed onto our school grounds. At present there are too many unauthorised vehicles coming and going and if this continues someone could get seriously hurt! This is for your child's safety. Please use our drop-off area, access on Moat Street.
Nazareth House Primary School, Bishop Street, Derry, BT48 6UN | Telephone: 028 71280212
WEBSITE BY: SCHOOLWEBDESIGN.NET | Login