Welcome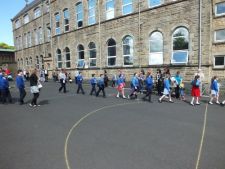 Welcome to Nazareth House Primary and Nursery School website. We hope you find the site easy to use and informative.
Our school is housed in a beautiful old building just off Bishop Street. It is equipped to very high standards and a warm, homely atmosphere pervades the building.
We are very proud of our 260 children ranging from three year olds to eleven year olds.
Our staff of eleven teachers, eight classroom assistants, five lunch supervisors, four cleaners , caretaker and secretary are committed to making Nazareth House Primary and Nursery School a very welcoming industrious place. But don't take our word for it... call in and see for yourself! You'll be made very welcome!
Primary 7 participating in fan the flame & Aras Colmcille on St Columba's day
Welcome Mr Moran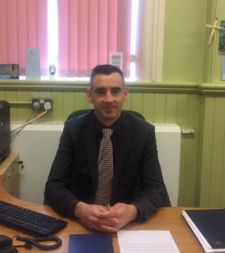 Dear Parent/Guardian,
It is with great pleasure that I am writing my first correspondence to you, as Principal of Nazareth House Primary School.
It is a tremendous honour for me to be chosen to lead such a wonderful school with its long and proud history of education stretching back generations. I am well aware of the rich legacy which the school has inherited from the Sisters of Nazareth and intend to maintain and strengthen the school's unique ethos encapsulated by our school motto 'Caring and Sharing'.
I have been humbled by the warmth of the reception that I have received since taking up my new post. I have noted the special atmosphere that exists within the school, where everyone works together in a spirit of unity and friendship. This is what makes Nazareth House Primary School such an extraordinary place to visit. I fully intend to retain all of these unique attributes!
I also wish to acknowledge the hard work and dedication of the outgoing Principal Mr. Paul O'Hea and wish him well in his retirement.
As you know challenging times lie ahead for all schools, including our own, but I hope that by maintaining strong relationships between the school and its community that we can look forward with confidence to a bright and successful future. I know and trust that you will continue to support the school and its hard working staff in whatever way you can.
Yours faithfully,
………………………………………………………………………
Mr. A. Moran
Principal
Syrian Refugee "Green Day"
Mrs McGill organised a "Green Day" in an effort to get resources for the Syrian refugees who will be coming to our city. Anyone wearing green was asked for a donation towards this worthy cause. So far we have raised £910.11 with lots of sports equipment also being donated. Once again the generosity of our school community has been overwhelming especially when you consider our recent Clic Sargent fundraising and our Trócaire appeal. We can surely see the evidence of Caring and Sharing. Thank you!
Nazareth House Primary School, Bishop Street, Derry, BT48 6UN | Telephone: 028 71280212
WEBSITE BY: SCHOOLWEBDESIGN.NET | Login